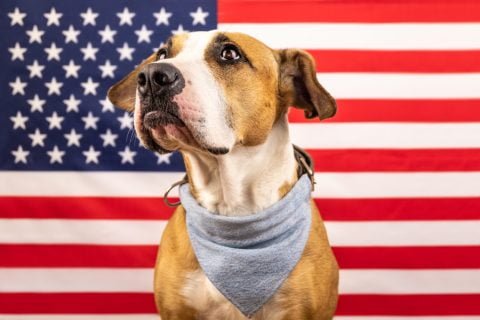 The Humane Society of Charlotte urges everyone to remember to practice pet safety during Fourth of July Weekend. There is often an increase of lost pets following the Fourth. Festivities for the holiday often include fireworks and other commotion, which can be stressful to pets or result in them getting lost. Below are some tips and tricks to keep your animals safe while observing the holiday weekend.
Fireworks Tips
Make sure your animals are locked inside, even pets who are normally outdoors. Pets can become startled by the sudden noises from fireworks and jump fences or "door-dash. Pick an interior room in your home for your pet to muffle the noise as much as possible.
Noise still bothering them? Play some classical music to provide a calming environment with constant soothing noise.
Consider utilizing a thunder-shirt or compression garment. Favorite toys or comfort elements, such as a Kong of peanut butter or belly rubs, work well too.
Identification is essential. Pets may panic, escape and become lost. More pets go missing July 4th than any other time of the year. In fact, on average, animal welfare organizations see about a 30% increase in the number of lost or missing pets in comparison to other days. Unfortunately, only about 14% of those pets are returned to their owners. Updated identification is critical to ensuring lost pets are reunited with their families. Ideal identification is both a tag and microchip (make sure your chip is registered on a site such as www.petmicrochiplookup.org).
Consult a veterinarian for pets with anxiety. Consult your veterinarian before the Fourth of July to seek out remedies to lower your pet's stress level if this is a known issue.
Outdoor/Recreational Safety
Make sure your dog has a canine-appropriate life-jacket when boating, kayaking, or spending time near bodies of water. Never throw your dog into the water.
Provide plenty of water if spending extended periods of time outside in the heat and bring treats to reinforce good behavior.
Keep pets away from grills, barbecues, and human food.
Bring pet waste bags to clean up after your pet.
Questions about how to keep your pet safe during the Holiday Weekends? Email us info@humanecharlotte.org